This article discusses sexual violence and incest.
Social media, while a blessing, has also become a curse for survivors in Pakistan. The platforms are widely used by survivors to share their stories of sexual harassment, molestation or rape. It also gives users a chance to comment and provide leeway for the perpetrator.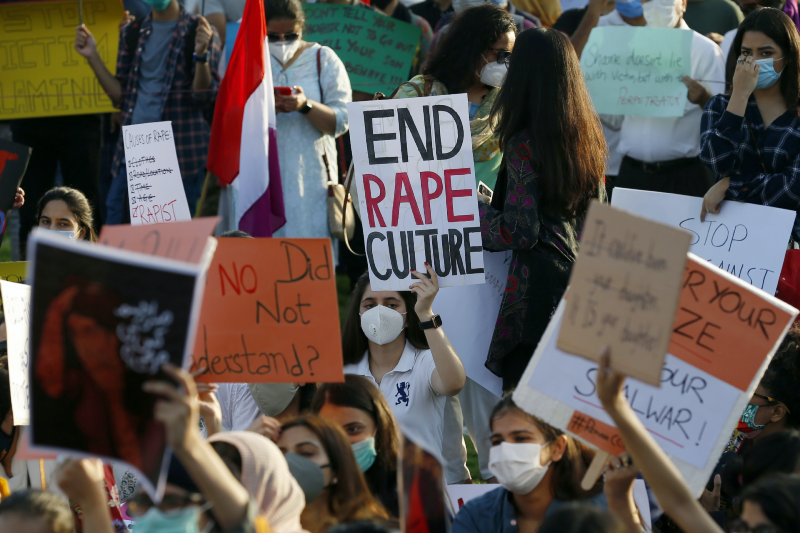 Recently, a woman was gang-raped on the outskirts of Pakistan's second-largest city, Lahore, in front of her two children (both under eight) at gunpoint.
The family was on their way home, from Lahore to the nearest city, about two hours' drive through the highway. The highway is called the Motorway and is one of the most well-developed roads of Pakistan that connects the province of Punjab to the North of Pakistan. At around 1 am her car broke down as it ran out of petrol. She tried to arrange for help, took all legal precautions and called the highway police for help and her family. While she waited for them to arrive, two men broke the glass of her car and took her and her children into the nearby fields.
A country that takes pride in honouring its women, naturally, people over social media, traditional media and public at large were outraged by the incident. The inhumane act of rape, and that too a mother in front of her children?
Rape cases are not new to Pakistan, between January 2019 to May 2020 around 688 rape cases were reported in the press in Pakistan according to the Human Rights Commission of Pakistan. These stats are higher according to police data. In 2019, the police in the province of Punjab alone registered 3,881 cases of rape and 190 of gang rape.
Currently, stats from provinces are outdated. Data discrepancy is rampant, as numerous cases go unreported in Pakistan, due to the fear of losing one's stature and respect in society.
'If one of the most well-managed roads of the country is unsafe for women, how are other places safe? If their houses are unsafe, where do they go? If law enforcement are part of such crimes, who do they report to?'
On the day, the Chief of Punjab police said that the survivor should not have taken a deserted road over a busier route given the time. That is when the victim blaming began.
Why was she out at this hour? Why did she take a deserted road? Why did she run out of petrol when she knew the highway has no petrol pumps? Did she have her husband's permission?
In the days after the incident, rape and gang rape cases were heavily reported in the media from across the country. People took to social media and shared their stories of being raped, molested as a child, on the streets, in their houses and everywhere.
Shandana Gulzar, a minister of the ruling party, during a talk show shared that at least 82 per cent of rape perpetrators are family members, such as fathers, brothers, grandfathers, and uncles. She urged the government to address the root causes of rape. According to Sahil's 2019 report, a non-profit that collects child abuse data through media outlets, eight children are abused per day in Pakistan.
Survivors talked about how their clothes, timing or place didn't matter to perpetrators. But a majority on social media still held survivors responsible for 'putting themselves or their kids in the position'. The morality police always point towards the survivor, finding faults in their behaviour, be the survivor a young child or an aged woman. Discussing the character of the victim rather than that of the culprit is common in online spaces. People ask for answers from the survivors, not from the preparators.
This is reflected too in law enforcement. While reported rape cases in the press and at police stations are increasing, the blame is hardly being shifted to the culprit. The rampant victim blaming and risk of retraumatisation induces fear into survivors and prevents them from speaking up.
A short survey conducted for this article revealed that women have become fearful of driving and leaving their houses since the incident.
'I have started being more careful about my clothing… I prefer wearing desi (Pakistani dresses), even though I know it doesn't matter,' said one of the respondents.
'If I'm travelling with my driver along with my mum and sister I'm constantly thinking of ways by which I'd protect them and myself,' said another.
If one of the most well managed roads of the country is unsafe for women, how are other places safe? If their houses are unsafe, where do they go? If the law enforcement are part of such crimes, who do they report to?
And if they do find themselves in such a position, will they find justice?
The culprits of the motorway incident are still at large, and those of other such incidents too. Hardly two per cent of cases end up in conviction in the country. Pakistan's flawed legal and justice system has failed to provide support to its inhabitants. Until there is a cultural shift away from victim blaming, this doesn't seem likely to change any time soon.
---